Testimonials
We are so very grateful for the assistance and support from Dr. Kennedy, without whose help we would certainly not have done as well as we did! His gifts of healing are unparalled and he dedicates himself 110% to getting optimal results!

Riley Salmon and Tom Hoff, Gold Medalists for the 2008 Men's Olympic Volleyball Team




---
Matthew--Gold Medalist Chicago Games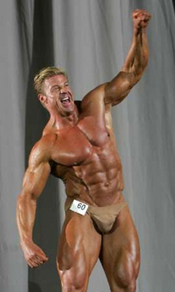 Not only is Dr. Kennedy an amazing doctor, but I am privileged to have him as my younger brother. He is a phenomenal healer who is a gifted health coach. As a body builder, I have had difficulty in the past with certain stubborn injuries, and each time Dr. Kennedy has made a short work of them with the precision of his treatment and the deftness of his skill and expertise. He is also a wonderfully caring person with the ability to empathize and partner with you on your own journey. Isn't it time you gave yourself permission to feel your best?













---
Cathy Lefrancois-Priest, IFBB Professional Bodybuilder and Canadian Goddess!
I have had major pain in my shoulders and elbows because of my rigorous work out schedule, and after my first treatment with acupuncture, I was absolutely amazed at how good I felt for months! I am a true believer!






















---
Sharon S.---Your Lifetime and indebted patient

On January 12th, I was in a very bad accident resulting in a broken arm and left ankle and a severely damaged neck and back. Months later, when I could no longer tolerate the pain I was in, I heard through word of mouth about Dr. Kennedy. I was so impressed by his professionalism. He gave me a thorough explanation about how the body's nervous system plays a pivotal role in the body and how slight alterations impeding nerve signals can slowly sabotage the body systems. Dr. Kennedy came up with a master plan to get me in alignment through hands

on treatment including adjustments, traction, exercises, acupuncture and nutrition. I love the snap, crackle and pop! I now feel so much better after 2 months of care and look forward to a healthy future! I believe things happen for a reason and I am thankful to God for healing me and using Dr. Kennedy's gifted hands for my restoration and healing!


---
Marina C.
Thank you so much for all you have done for me! Your wonderful and very effective acupuncture and chiropractic care helped me immensely to successfully finish the SD marathon. Just as important, I thank you for your friendship which has meant so much to me!


---
Beth C.
I cannot thank you enough for getting me back into shape!!! I am so glad I found you!!!


---
All with so many thanks, Kerry F.
I suppose I could start my story from over 20 years ago and then we'd be reading for days. My story really begins in the year 2009 when Doctor Kennedy walked into my life. I am convinced that God shed his light to connect me with this man whom I dearly call Doctor, my brother and my friend. I spent the very end of 2008 in the most incredible pain in my life. I have spent many years working on my soul and what I thought was creating total harmony. There was something missing as I had pain that flowed up and down the left side of my body into my neck, ear and TMJ (the joint connecting my lower jaw to my skull) I "dealt" with this pain for years..too many, in fact. I carried stress that I thought I had control of and was medicated with traditional Western Medicine to mask the pain. I medicated myself with over the counter meds several times a day. I am a lighthearted, energentic Woman and the pain would just debilitate me falling into saddness too often. Just before New Years eve this year, with encouragement from many friends and family, I looked into trying something different as I knew in my heart that this was not what I was supposed to do on this Earth..that is be in physical pain. Life is too good and too short for it. I found Doctor Kennedy on my Medical care provider list. He was listed with many others for Acupuncture. Something pulled me to contact him out of anyone else and I am so thankful I did. I contacted his office during the Holiday expressing that I needed help and that my pain was at a "10". He happened to be on vacation in Honduras with his loved ones at the time. I was shocked when I started getting the immediate contact from him holding my hand all the way. We had not even met yet, and he was THERE for me. He gave me some advise to help calm the pain temporarily and offered to refer me to someone to take care of my immediate needs in that moment until his return. I just knew that I had to move through the pain and wait to see him. Unfortunately, on New Years Eve I was rushed to the emergency room in the hospital as I could not get the pain under control. This time, I had to be drugged with something 10 times stronger then Morphine. After the fog of the medicated "coma" wore off, it was in time for me to get into to see Doctor Kennedy. He had his assistant contact me while he was away to set up the first available appointment upon his return. Even at such a distance, he was caring for me. Wow! I have never in my life had an experience like that with any Doctor. I came into the office and met this Man who greeted me with a big Hug and took me into his office to assess the situation. We started working on the pain right away. After Doctor Kennedy explained a bit about acupunture, it seemed a bit strange to think this could actually work. I was amazed. The results were immediate. Within 2 visits, my pain was totally gone. I thought, my gosh, is this too good to be true? How can it be? Now a few weeks later, I still have NO PAIN. I have had not had to turn to any over the counter meds! I haven't felt this good in my body in over 20 years! I also asked Doctor Kennedy to take a look at the Health supplements and vitamins that I was taking, he assessed them all and added a few natural supplements to my daily regimen. My body just flows now. AND Guess what, I have Total Harmony! This is what I was looking for all these years! Doctor Kennedy and his mastering of Eastern Medicine along with so much love and personal care has absolutely changed my life. His team in the office along with their unending desire and passion for healing and wellness for their patients is something that just touches my soul. WOW! I am blessed. To you and your team, I am forever proud and thankful to call you my caregivers and friends. Please share this with anyone you wish. I'd skywrite it if I could.